Hello! I am a freelance artist and student based in Dorset UK. I create abstract paintings for therapy to help me with daily struggles with mental and physical health problems. I suffer from severe anxiety, depression, and panic attacks from trauma in 2014, leaving me housebound since 2018, PoTS and Autism Spectrum Disorder. I started creating art in 2015 to help me deal with the negatives in my world, fuelling my passion for painting and I would love to pursue it as a career. I get inspired by everything, so I do not tend to stick to one particular style or theme on every piece I make. On every painting I create, I experiment to help keep things interesting, but most of my work is created without a plan and I try not to think about details such as colour or what I'm doing, which helps me clear my mind or help me find relaxation, yet leaving the results to surprise me every time. I tend to use acrylics in my work, but I do like to change the media up every once in a while. Working in my designated art studio in my childhood home is somewhere I thoroughly enjoy creating my work, where I feel comfortable and confident to create my artistic creations.
I have completed and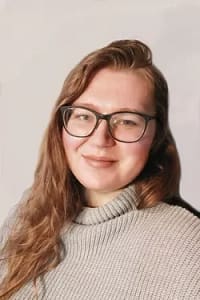 received my level 3 Foundation Diploma in Art and Design. I love being an art student, so I am currently studying with the Open College of the Arts (OCA), working on my Fine Art BA (Hons) degree. I started studying here in September 2021.  I wanted to create U.Millie_Art to sell my work, beginning with prints and it makes my heart flutter every time I create them. The name U.Millie_Art originates from when I changed my Instagram username back in June 2019 (when I started posting my paintings onto social media). I hope you enjoy my art creations as much as I enjoyed making them. 
Please feel free to follow me on Instagram, LinkedIn and Facebook Page. If you would like to purchase my fabulous greetings cards, Canvas prints or for any commissions, please don't hesitate to contact me at umillieart@gmail.com.